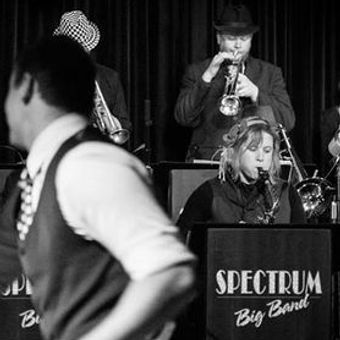 Spectrum Big Band History
Spectrum Big Band was formed in 1998, as part of the Canberra City Band. At first called Spectrum, Canberra City Show Band, it was later to become Spectrum Big Band and be the longest running of the big bands within the Canberra City Band organisation.
It was initially under the leadership of Sergeant Glenn Rogers (1998-1999) from the band of the Royal Military College, Duntroon. The Duntroon Band supplied most of the Music Directors. Each contributed to the band's development with one of the most notable being Warrant Officer, later Captain, Rod Mason (2007-2008).
Mason was the Bandmaster at the Australian Defence Force Academy and had been involved in the production of CDs by the Army Band Corps. One, entitled 'Camouflage,' was nominated for Best Contemporary Jazz Album in the 2003 Australian Jazz Awards and another, 'Salute to the Aussie Digger', received a Gold Australian Record Industry Association Award in 2008. Mason was awarded an OAM in 2008 for his contributions to music, the Australian Army Band Corps and the community.
Spectrum performed at balls, public concerts, convention dinners and regularly at jazz festivals including the St Valentine Jazz Festival in Canberra and the Merimbula, Moruya, Wagga Wagga, Manly and Thredbo festivals.
Spectrum also had an informal but productive relationship with Jumptown Swing, a Canberra dance organisation, specialising in the dance styles from the 1920s to the 1940s. It played for the regular dances Jumptown ran in the Albert Hall, for gatherings of jivers from various other cities including in the Great Hall of Parliament House (2011) and for dance exhibitions at outdoor venues such as Garema Place.
More recently Spectrum has cemented a partnership with the Canberra Swing Katz. Canberra Swing Katz offer group and private classes, Canberra's only award winning Swing dance performance team for hire, events and social dancing. Swing dancing originated as a social dance to Big Band Music, and we thoroughly enjoy coordinating our appearances and perform together.
The frequency of the band's performances around Canberra contributed significantly to the Canberra City Band organisation and it gained a good reputation both within and outside the ACT.